The Coronado Area Council continues its proud heritage of serving community organizations across the 32 counties that comprise our service area in North-Central and Northwest Kansas. More than 3,700 youth participate in the Scouting and Exploring programs provided by nearly 1,500 dedicated volunteer leaders.  Learn more and get involved.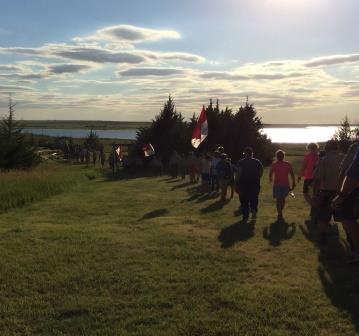 News & Notes
Since the weather is cooling down, you can add a little sunshine and warmth to a stranger with these simple ideas.
October is National Bullying Prevention Month, and, according to new BSA data, Generation Z believes bullying is the biggest issue facing their generation and the number one issue they want to solve.
Membership Registration Fee
Coronado Area Council Scouters,
We want to make you aware that the National Council, Boy Scouts of America, is considering a fee increase for 2020. This fee increase will be effective beginning this recharter process. The amount of the increase will not be known until November 1, 2019.
We recognize the timing on this likely fee increase creates challenges as units have already begun collecting fees for their 2020 registration renewal process. The good news is we are in the middle of our popcorn sale and you can adjust your sales goal to help offset this increase!
Thank you for your patience while we work through this together. We will let you know the official amount as soon as we find out.
Finally, we want to ensure any youth wanting to join Scouting can regardless of financial barriers. Please know registration assistance is available upon request both from Coronado Area Council and the National Council.
Thank you again for your commitment in delivering a life changing program to the youth we serve.
Barry Clark
Council President
Ed Chandler
Council Commissioner
Kyle Smith
Scout Executive
Our programs are designed to further our mission and provide much needed services for our constituents.
Take a look.

Our Council Calendar is loaded with fun-filled events for our youth and critical training for our volunteers. Join us at an upcoming event to see how you can get involved.
View the Council Calendar.