Learn About the Tribe of the Golden Eagle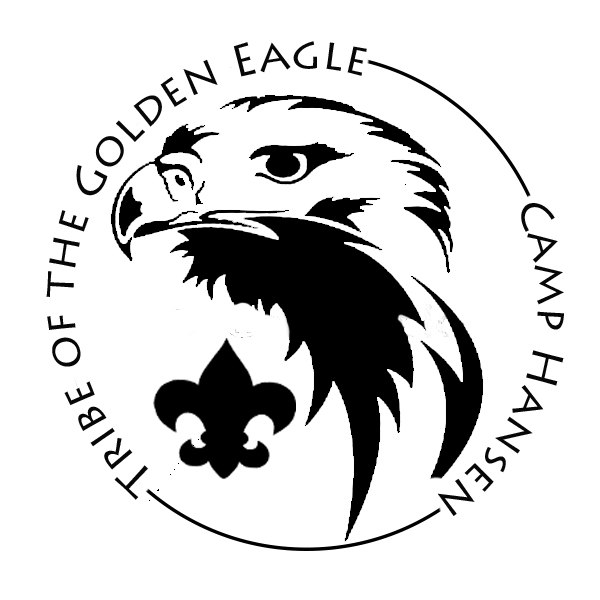 Tribe of the Golden Eagle
Golden Eagle is a special leadership program at the Coronado Area Council's Dane G. Hansen Scout Reservation. Its purpose is to reinforce the principles of the Scout Oath and Law and to encourage continued participation in Scouting (with special emphasis on the long-term Summer Resident Camp experience) by developing and recognizing youth and adult camp leaders.
Golden Eagle accomplishes its purposes by affording its member an initial and on-going opportunity for introspection on Scouting values, as well as, practical application of those ideals. The air of mystery, the pageantry of ceremonies, the color and trapping of Native American material culture, the increased self-esteem developed by succeeding at difficult tasks and recognition gained through growth in responsibility are all key ingredients of the appeal of Golden Eagle.
Golden Eagle can be described as a program "OF, BY, and FOR camp" . . . and while its basic activity is found in camp, Golden Eagle's ideals extend to a member's activities throughout the year and on into later life. This proud heritage and tradition is renewed each time a wide-eyed young Scout enters the tapping ring and leaves to begin the trail to the inner circle of the Tribe of Golden Eagle.
Download 2018 Leader Guidebook - contains youth recommendation forms and adult nomination forms
Official newsletter of the Tribe of Golden Eagle (coming soon)
Council of Chieftains
One outstanding adult Tribesman is chosen each year to serve as Chieftain. The Council of Chieftains selects adult leaders for membership, make appointments to adult paint responsibilities and give leadership in ceremonies.
1989 – Chieftain Medicine Bear (Andy Struble)
1990 – Chieftain Red Horse (Ralph Lare*)
1991 – Chieftain Big Blue Wolf (Bob Wichael*)
1992 – Chieftain Wooden Beaver (Mervin Lare*)
1993- Chieftain Yellow Cat (Dean King*)
1994 – Chieftain Big Round Tracks (Don Holmes)
1995 – Chieftain Silver Buffalo (Ed Splichal)
1996 – Chieftain Distant Hunter (Jerry Driscoll)
1997 – Chieftain Coon's Eye (Max Donahey*)
1998 – Chieftain Little Paint Medicine (Ted Kalthoff)
1999 – Chieftain Father of Eagles (George Graves)
2000- Chieftain Silver Beaver (Glenn Snyder*)
2001 – Chieftain Gentle Eagle (Encille Lewis)
2002 – Chieftain White Mountain (Rex Brown)
2003- Chieftain Little Field Mouse (Bill Murphy)
2004-Chieftain Screaming Eagle (Bob Holston)
2005-Chieftain White Buffalo (Rich Lehman)
2006-Chieftain Shining Shield (Tom Wesoloski)
2007-Chieftain Redwood (Brian Dillner)
2008 - Chieftain Snakefire (Jeff Rittel)
2009 - Chieftain Blue Eagle (Loren Harvey)
2010 - Chieftain Adventure Seeker (Bob Kendall)
2011 - Chieftain Stinking Possum ( Brad Corbett)
2012 - Chieftain Patient Eagle (Mike Gross)
2012 - Chieftain Silent Water (Rex Lowe)
2013 - Chieftain Climbing Guide (Bob Gibbens)
2014 - Chieftain Big Raccoon Chaser (Randy Kiser)
2015 - Chieftain Distant Blue Flame (Cliff Kendall)
2016 - Chieftain Big Fire Badger (Virg Augustine)
2017 - Chieftain White Eagle (Paul Grammon)
​