Kansas Sea Base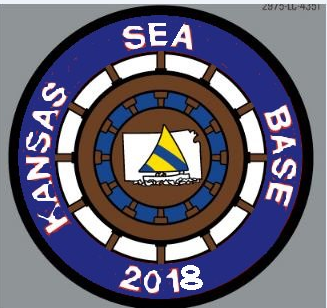 Since its beginning, the Boy Scouts have encouraged outdoor adventures as learning experiences. In that tradition, Kansas Sea Base (KSB), an inland water safety and merit badge program, was developed by the Konza District of the Coronado Area Council, Boy Scouts of America. The program is cosponsored by the Blue Valley Yacht Club and the Blue Valley Youth Sailing Foundation. Kansas Sea Base uses keel boats, Sunfish, kayaks, canoes, motor boats and ski boats provided by supporting organizations to teach the merit badges. KSB offers Scout Rank and above Boy Scouts, who are at least 13 years of age, and male and female Venture Scouts the opportunity to complete one of these merit badges: Small Boat Sailing, Canoeing, Kayaking, Motor Boating, or Water Sports. The Water Sports merit badge is a demanding course making prior water skiing or wake boarding experience very helpful in completing the course at Kansas Sea Base.
Kansas Sea base is located on the grounds of the Blue Valley Yacht Club (BVYC) on Tuttle Creek Lake approximately 10 miles north of Manhattan, KS (see map). The adventure begins Friday, August 9th with check in starting at 5:00 p.m. Youth need to be present when the program begins at 7:00 p.m. Friday. They need to remain until closing on Sunday, August 11th, at 11:30 a.m. Scouts need to provide their own eating utensils. Meals are served from a central kitchen to all Scouts and Scouters with Scouts providing kitchen support on a rotating schedule. There must be an adult leader for every eight youth from each unit. Adult leaders will be expected to supervise and assist all youth and will be asked to serve as safety observers of water activities. The rules of the Safe Scouting Manual will apply, including requirements for female Venture Scouts.
For more information and registration click HERE.