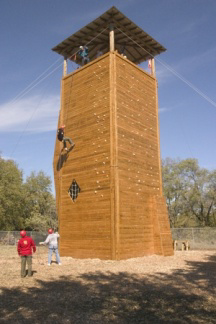 Instructor Training For Climbing & Rappelling                                                         
May 3-5, 2019 (Friday – Sunday)               
Leaders, your Scouts need to experience the challenge of climbing and rappelling.  By having adult leaders in your unit certified as BSA Climbing and Rappelling Instructors, you will be able to use the facilities at Brown Memorial Camp and Hansen Scout Reservation.
Where:  The Coronado Area Council will offer training courses for Climbing/Rappelling Instructors at the Robert K. Weary Climbing Tower at Brown Memorial Camp.
Who:  Adults 21 and older can receive full training, space is limited to 15.
When:  Training starts at each location at 7:00 pm Friday and ends in the late afternoon on Sunday. Participants must be present throughout the entire course time to receive the instructor card. The BSA Climbing Instructor training syllabus will be followed.  Participants must be "ready to go" at 7 pm on Friday; the training ends on Sunday at approximately 5 pm.
Cost:   $50 per person for registered leaders in the Coronado Council and $65 for others. The cost includes staying in the cabins, all meals and, the book Topping Out, use of camp, climbing equipment and training materials during the weekend. There will be a cracker barrel on Friday night but dinner is not provided.
Participants should bring their own camping gear (tent, sleeping bag, personal items) and should wear weather appropriate clothing. Restrooms and showers are available. 
To register click HERE